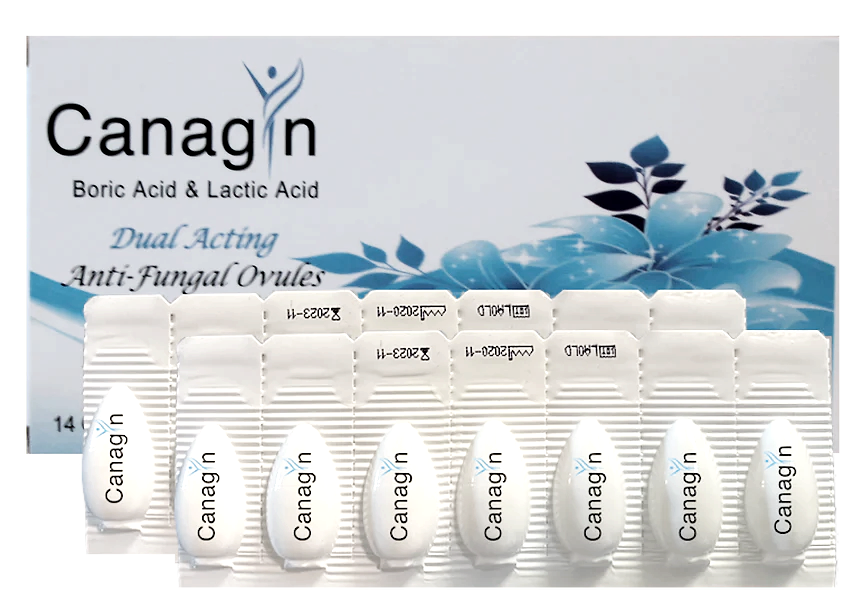 Introducing Canagyn
Introducing new innovative combination for the treatment of fungal and yeast infections
Canagyn is a combination of Boric Acid and Lactic Acid that has proven efficacy in the treatment of Vaginal Candida and Yeast infections. Boric acid is a safe, alternative, economic option for women with recurrent and chronic symptoms of vaginitis when conventional treatment fails.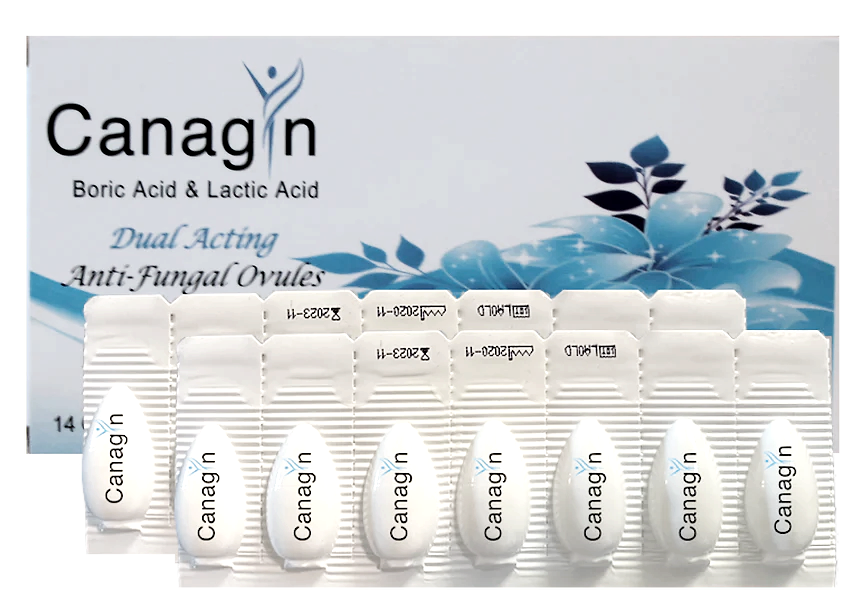 Canagyn has been clinically proven to: 
Helps reduce the overgrowth of recurrent or resistant vaginal yeast.
Helps relieve recurrent vaginal infections such as candidiasis.
Helps to reduce the incidence of recurrent Vulvovaginal Candidiasis.
Traditionally used in herbal medicine for secretions associated with vaginitis.
Helps to treat symptoms of recurrent Yeast Vaginitis and Vulvovaginal Candidiasis.
Adults:
Insert 1 suppository capsule per day into the vagina before bedtime for 14 consecutive days.
Follow all directions on your prescription label.
Do not use this medicine in larger or smaller amounts or for  longer than recommended.
Do not take a vaginal suppository by mouth. Vaginal boric acid is for use only in the vagina.
Do not use this medicine if you have open sores, wounds, or  ulcerations in your vaginal area.
The usual dosage of vaginal boric acid is 1 suppository inserted into the vagina once per day, for 14 days in a row.
Follow your doctor's dosing instructions.
Wash your hands before and after inserting a vaginal   suppository.
Avoid handling the suppository too long or it will melt in your  hands.
Read all patient information, medication guides, and instruction sheets about how to insert the vaginal suppository
You can use a sanitary napkin to prevent the medicine from  staining your clothing, but do not use a tampon.
Call your doctor if your symptoms do not improve, or if they get worse.
Store at cool room temperature away from moisture, heat,  and direct light. The
vaginal suppositories will melt if they get too warm.
Keep each vaginal suppository inside the foil pouch until you  are ready to insert one.
Canagyn has mild antiseptic and anti-fungal actions. This product works by replenishing normal vaginal acidity and balancing vaginal flora (helpful bacteria). Canagyn is used to treat vaginal yeast infections and relieve symptoms such as burning, itching, and odor.
Each Canagyn pack contain 14 vaginal ovules
Do not use if you are pregnant or breastfeeding.
Not for oral use.
Bacterial Vaginosis Vs. Yeast Infections
Anti-fungal medications are not effective against Bacterial Vaginosis, so it is important to distinguish between Bacterial Vaginosis and Yeast infections. Bacterial Vaginosis usually recognized by a fishy smell.